Of all the electrical appliances at home, the refrigerator is probably the one you depend on the most. Also, it's the hardest working electrical appliance in your home, and refrigerator repair will be a constant requirement. Think about it? Is there any other appliance that runs 24 hours a day and 7 days a week? Since the refrigerator is an appliance that never stops running, it is also the one that faces the most wear and tear. As a result, a refrigerator related issue could crop up anytime and if ignored, you could end up with a much more complicated issue on your hand looking for refrigerator repair service in Los Angeles.
We Are Same Day Refrigerator Repair Los Angeles Company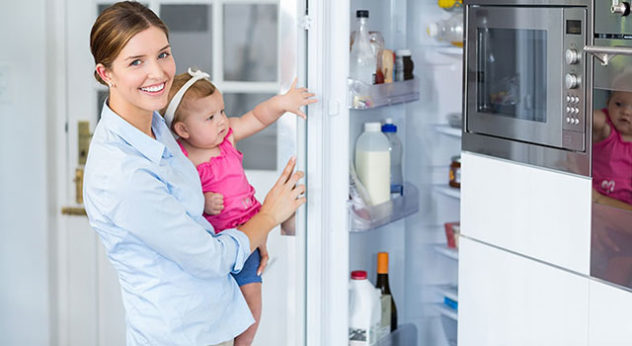 Probably no one can last more than a couple of days without a refrigerator. That's where our experts at Your Appliance Repair can help you out. At Your Appliance Repair we offer residential and commercial refrigerator service wherever and whenever needed. Our technicians are highly skilled and they carry out some of the best work with regard to refrigerator service in Los Angeles area.
We Offer Refrigerator Service Every Brand
There are a ton of refrigerator brands out there and each brand has its own unique set of advantages. But, they also come with their own unique set of problems as well. As such, what you need is a reliable fridge repair service that can handle all kinds of refrigerators and their respective issues. So, whether you need to fix your Kenmore refrigerator or repair Viking refrigerator, Your Appliance Repair is your best bet. We can also provide you with such refrigeration service as Sub-Zero fridge repair. We service refrigerators of nearly all major brands including Bosch, Thermador, Dacor, LG, GE, Miele, and Frigidaire.
Our Los Angeles Refrigerator Technicians Are Able to Fix Any Issue
Do you suspect that your refrigerator might be starting to give trouble? Well, stop waiting and get in touch with us immediately. Here are a few common issues you might notice that indicate that your refrigerator is in need of repairs and you will probably look for refrigerator repair company in Los Angeles soon:
Too much cycling. This kind of problem can cost you some serious money. We're not just talking about repairs, constant cycling can also increase your utility bills. It usually happens when there is a dust/debris buildup around the condenser coils.
Water under the fridge. If you find water puddles under the fridge, it could mean that either your defrost drain is blocked or your rubber check valve is blocked.
Refrigerator doesn't run. Bad fuse or wiring may be the problem.
Refrigerator doesn't cool properly. Temperature control may have caused the failure.
If you spot some problems like these, let us know as soon as possible. We'll send our technicians over to take a look and sort out the issue.
Rules for the Use and Care of a Refrigerator
Keep air circulating as it should.
Keep the condenser clean.
Make sure there is plenty of room around the refrigerator or freezer.
Keep all food covered.
Keep control set no lower than is necessary to keep foods properly chilled. This should normally be within a range of 35 to 40 degrees in the refrigerator compartment and 0 to +10 degrees in freezer.
Keep opening of doors to minimum.
Clean interior regularly with a solution of baking soda and water.
Vacuum the condenser as frequently as advised in the instruction manual. Signs of dirty condenser coils are: temperatures inside refrigerator begin to rise; running time increases, vibration noises increase, cabinet exterior becomes warm.
Here Are Some Refrigeration Tips for Saving Energy
Refrigerators and freezers are appliances that never turned off. In an average home they are responsible for about 1/3 of the total electricity bill. A new Energy Star labeled refrigerator consumes about 1/3 of the electricity of some of the older models. Energy Star is a joint program of the U.S. Environmental Protection Agency and the U.S. Department of Energy helping us all save money and protect the environment through energy-efficient products and practices. Here are some tips on how you can save energy:
Consider buying an energy-efficient refrigerator to replace the older one. You will recover the cost remarkably quickly.
Wait until hot foods has cooled down before putting it into your fridge.
Never keep the fridge door open any longer than necessary.
Keep fridges and freezers away from heat sources such as ovens, dishwashers, and washing machines and if possible, site them out of direct sunlight, as your appliance will use more energy trying to keep cool in the sun.
We Cater Refrigerator Repair Service to Los Angeles and Its Adjoining Cities
One of the problems with living in a big city like Los Angeles is that you probably can't get in touch with a reliable refrigerator service company in your location. However, with Your Appliance Repair this will not be an issue as we provide service all over the city.
You'll never have to travel miles to another location just to find a reliable refrigerator serviceman. Give us a call and we'll get there as soon as possible. Whether you need to repair a refrigerator or look for refrigerator maintenance, Your Appliance Repairs is there to answer your call.
We cater repair and maintenance service to multiple locations in the area including refrigerator repairs in Granada Hills, repairing refrigerators in Sherman Oaks, fixing a fridge in Studio City, servicing refrigerators in Pasadena, Bel Air, Beverly Hills, West Hollywood, Marina Del Rey, Glendale, Burbank, Calabasas, and Santa Clarita.
See What People Say About Our Refrigeration Repair Service in Los Angeles
5 out of 5 stars
I opened my fridge in the morning and felt a pretty strong smell that could only indicate that my food is going bad because my fridge stopped cooling. I went on Yelp and started looking for an appliance repair company that would be able to come ASAP before I had to throw everything out. On my second try I called Your Appliance Repair and spoke with a dispatcher that promised to send someone within 2 hours. Sure enough, a tech. appeared at my door probably 45 min. later because he happened to be near by. After another 40 minutes it was fixed. I paid a little over $200 for the service, but it was well worth it. Very happy I found this company. Would definitely use them again.
Reviewer: Roman Onyx