When choosing electrical home appliances, it is necessary to get the best you can. You need to look for quality, reliability, and durability. Not any brands can provide all three. However, there are some that do. Frigidaire happens to be one of these brands. But even the best of us need a helping hand once in a while. Sometimes, appliances just stop working due to a wide variety of factors ranging from overuse to physical or electrical damage, and and that's the time you might look for Frigidaire repair Los Angeles service.
On-site Frigidaire Repair Los Angeles Service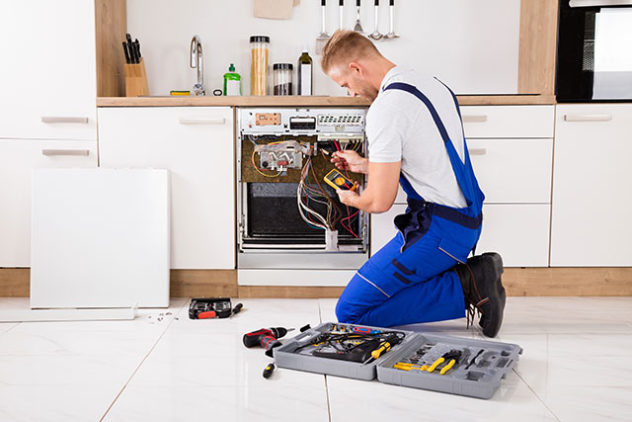 Frigidaire has been earning laurels since it was established in 1918. The company has existed for over a century and that alone stands as testimony to its commitment and quality. That's why Frigidaire customers swear by Frigidaire appliances. There's no doubt that this company makes some of the best home appliances.
While Frigidaires are not a common site in kitchens today, their name is still synonymous with the refrigerator for a good reason. These babies are the Cadillacs of the home appliance world! Sturdy and well built, a Frigidaire appliance is pretty much guaranteed to give you many years of hassle free ownership.
Fortunately, there is always a way to fix things and Your Appliance Repair is a company that specializes in appliance repair, especially Frigidaire appliance repair. So, if you ever have problems with your Frigidaire appliance and require a service for Frigidaire washer repair, a Frigidaire dryer repair or even Frigidaire refrigerator repair, we are your best shot at fixing and repairing your appliances.
At Your Appliance Repair, we have been handling Frigidaire appliance repair for a long time now. This has us to learn a lot about Frigidaire appliances. As a result, we now enjoy the rare honor of being a respected provider of Frigidaire repair Los Angeles service.
We're the best at Frigidaire Appliance Repair
With talented, dedicated and trustworthy appliance technicians, original factory parts, great rates, rapid on-site services and a lot of experience fixing pretty much every appliance in the Frigidaire lineup, do you really need more reasons to choose the best repair team for the job? Well how about our discounts for multiple appliances or commercial maintenance contracts?
We also offer repair services for all the other appliances that Frigidaire makes. We can help you with Frigidaire dishwashers, Frigidaire HVAC, Frigidaire air conditioner maintenance and repairs.
We Are Your Local Frigidaire Appliance Service Company!
We offer our services across the city of Los Angeles. We undertake appliance service in Bel Air, fixing appliances in Beverly Hills, repairing appliances in West Hollywood, appliance repairs in Marina Del Rey, appliance repair service in Glendale, Burbank, Pasadena, Calabasas, Santa Clarita, Granada Hills, Sherman Oaks, and Studio City.